Somewhat over 300 miles from the
mouth of the Columbia we camped at
Daroga State Park. The grassy field in
the picture on the left slopes right
down to the river's edge. At the left of
the picture to the right you can see an
Osprey nest. We enjoyed watching the
birds bringing something to the nest.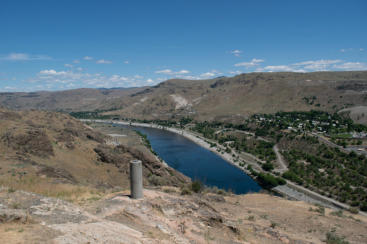 Roughly 600 miles from the Pacific is the
last dam in in Washington, the Grand
Coulee which forms Lake Roosevelt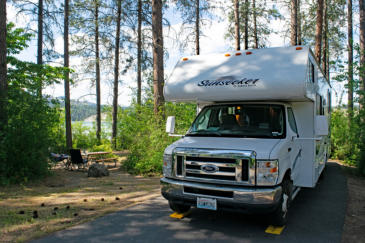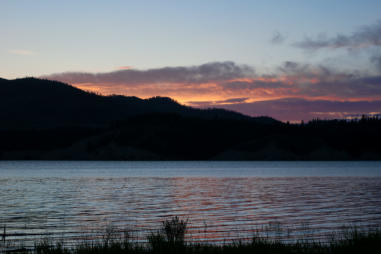 Camped in Roosevelt Lake National Recreation Area
About 80 miles above the
Grand Coulee
On the left the Columbia actually
flowing like a river again, just below
the Canadian Border (a little over
700 miles from the Pacific) and on
the right, just above the border.
The route in Canada. The green is the outward
bound route. There are a couple of sections that
we couldn't drive along. The first one down
south starts at Castlegar where the highway goes
up along the Slocan lake and river. It comes
back to the Columbia at Nakusp. The second
section is in the north on the east side of the Big
Bend (the northern most point of the Columbia.
We had to go up and back on the same highway
to camp up there.
Our first camp site in Canada
was at Roseberry Provincial
Park which was in the Slocan
valley.
Slocan Lake is one of the prettiest lakes
we have seen in British Columbia.
Unfortunately, the weather and the road
didn't allow for many opportunities to get
a decent picture.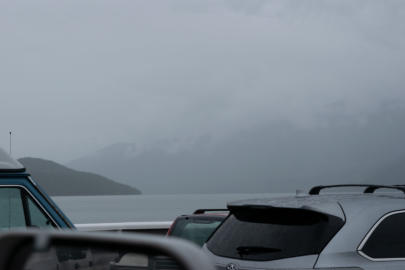 From Nakusp the highway runs up the east
side of the Upper Arrow Lake as the
Columbia is called in this section. For
some reason though the highway needs to
cross to the west bank and does it by the
ferry we are waiting for in the left hand
picture. The right picture was taken from
the cab because I didn't feel like getting
rained on. I think it would be a very
picturesque ferry crossing in other
weather conditions.