After leaving Nairn Falls we crossed over the Coast
Mountains working our way north and east. Maps 2 and 3
Duffy Lake in the Coast Mountains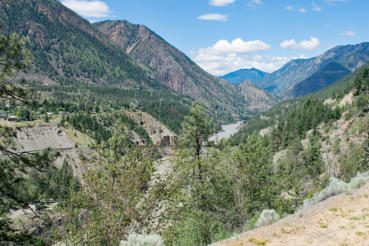 The Fraser River canyon on the dryer
side of the Coast Mountains and an
emerald lake.
Fraser Lake from Beaumont Provincial Park. They even had a beach
for pets. Musby enjoyed playing in the water. McCoy abstained.
Ten Mile Lake Provincial Park. The local Rod
and Gun Club sponsored a fishing contest for
kids the day we were there and gave out free
rods and reels to the kids. Some of the kids
were still fishing at sunset (about 9:30)
Smithers. The picture on the left was taken from the grocery store parking lot. The
one on the right was taken from the gas station seen on the left. Smithers was
where we reset our route.
North of Prince George we
camped on McLeod Lake in
Whiskers Point Provincial
Park. It was very windy
when we first arrived which
was great as it kept the
mosquitoes from bothering
us.
The Rocky Mountains. This mountain
chain is considerably lower in British
Columbia than it is in Colorado.
Highway 97 crosses over them at
aptly named Summit Pass at just over
4100 feet.
Our next photographic scene came after leaving Dawson Creek. We traveled south in Alberta on
Highway 40 and stopped for the night in William A Switzer Provincial Park on Gregg Lake (Map 4)
From Switzer we headed west into Jasper National Park and the town of Jasper
We rode the tram up to the lookout and restaurant high over Jasper
Maligine Lake is one of the lakes in
Jasper National Park.
Driving back from Maligine Lake to our campsite near Jasper we saw
these. I think the critter on the left is a young Caribou but I'm not sure.
The bear jam in the center was cause by two bears who wondered across
the road and then decided to show off by climbing a tree for the tourists.
There were quite a few Elk wandering around in Whistler Campground.
This one is in the camp site next to ours.